In today's fast-paced digital world, businesses rely heavily on technology to drive their operations. However, managing IT infrastructure can be a daunting and time-consuming task, often requiring specialized skills and expertise. This is where fully managed IT solutions come into play, offering businesses a hassle-free way to ensure their systems are running smoothly around the clock. In this blog post, we will explore the benefits of fully managed IT solutions and how they can help businesses streamline their operations and stay ahead of the competition. So, whether you're a small business owner or an enterprise-level organization, read on to discover how managed IT services can transform your business.
Understanding the Benefits of IT Solutions for Your Business
IT solutions are an essential part of running any business in today's digital age. They offer a wide range of benefits that can help streamline operations, improve productivity and efficiency, and enhance the overall customer experience. With IT solutions, businesses can automate many processes, reduce errors and downtime due to technical issues, and ensure data security.
One major advantage of using IT solutions is the ability to access real-time analytics that provide actionable insights into your operations. This allows you to make informed decisions quickly based on accurate data.
Moreover, with fully managed IT solutions, you don't have to worry about maintaining hardware or software systems yourself as it will be taken care of by your provider – this means less hassle for you!
Overall investing in IT solutions for your business is a smart decision that will drive innovation while providing practical assistance every day.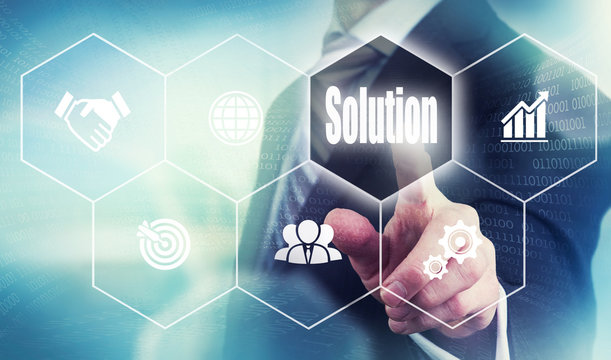 How Fully Managed IT Solutions Can Streamline Your Operations
Fully Managed IT Solutions can help streamline your business operations by taking over the management of your technology infrastructure. This includes managing all hardware, software updates, security patches, and any other IT-related issues that may arise. With a team of experts behind you, you can rest assured that your systems will always be up-to-date and running smoothly. Additionally, fully managed IT solutions can provide proactive monitoring and maintenance services to identify potential problems before they turn into major issues that could disrupt your business operations. By implementing these types of solutions, businesses can improve their overall efficiency while reducing downtime caused by technical difficulties or system failures.
Type of IT Solutions
There are various Type of IT Solutions that can help streamline your business operations and enhance productivity. One such solution is cloud computing, which allows businesses to store their data in a secure, centralized location accessible from anywhere across the globe.
Another important solution is cybersecurity which protects your business's valuable information, systems, and networks against cyber attacks. This includes monitoring for suspicious activity, implementing firewalls and antivirus software, conducting regular security updates and patches, and providing employee cybersecurity awareness training.
Other popular IT solutions include network infrastructure management tools like VPNs & remote access tools, VoIP phone systems or unified communications platforms to improve communication both internally among teams as well as externally with clients/customers/vendors/suppliers etc., server management services that optimize system performance while reducing downtime by diagnosing issues quickly via remote monitoring technology; backup & disaster recovery plans so you're always prepared in case unexpected emergencies occur; web development/design services that create user-friendly websites/apps so customers can easily engage with online content – be it e-commerce portals or educational resources!
The Top Features to Look for in a Fully Managed IT Solutions Package
When choosing a fully managed IT solutions package, it's important to look for certain features that will ensure your business runs smoothly. Firstly, 24/7 support is crucial. Your IT provider should be available around the clock to address any issues that may arise. Secondly, data security is of utmost importance. Your provider should have robust security measures in place to protect your sensitive data from cyber threats. Thirdly, regular backups are essential to ensure that your data is safe and can be easily restored in case of any disasters. Fourthly, scalability is important as your business grows and evolves over time. Your IT provider should be able to accommodate your changing needs without any disruptions to your operations. Lastly, proactive monitoring and maintenance can prevent potential issues before they become major problems, saving you time and money in the long run.
Choosing the Right IT Solutions Provider for Your Business Needs
Advantages of Fully Managed IT Solutions for Your Business
Advantages of fully managed IT solutions for your business include increased efficiency, reduced downtime, and improved security. With a reliable IT solutions provider, you can focus on your core business activities while leaving the technical aspects to the experts. A good provider will offer 24/7 support, regular system updates, and data backup services to ensure that your operations run smoothly. Additionally, a fully managed IT solutions package can help you save costs by eliminating the need for an in-house IT team. By outsourcing your IT needs, you can access the latest technology and expertise without having to invest in expensive hardware or software.
Key Considerations When Choosing an IT Solutions Provider
When choosing an IT solutions provider for your business needs, it's important to consider their experience and expertise in your industry. Look for a provider that has a proven track record of delivering successful IT solutions to businesses similar to yours. Additionally, consider their level of support and responsiveness. Will they be available to address any issues or concerns that may arise? Do they have a reliable support system in place? It's also important to consider the cost and flexibility of their solutions, as well as their ability to scale with your business as it grows.
How to Evaluate the Quality of a Managed IT Services Provider
When choosing a managed IT services provider, it's important to evaluate their expertise and experience in the industry. Look for providers who have a proven track record of delivering customized IT solutions that align with your business needs. A good provider should also have strong communication skills, be responsive to your queries, and proactively identify any potential issues before they become problems. Check if they provide 24/7 support and have robust security measures in place to protect your data. Additionally, read reviews from past clients to get an idea of how satisfied they were with the provider's service quality and reliability.
Questions to Ask Your Potential Managed IT Solutions Partner
When considering a managed IT solutions provider, it's important to ask the right questions to ensure they are the right fit for your business needs. Some key questions include:
What kind of experience do you have with IT solutions in my specific industry?
Can you provide references from other businesses you've worked with in my field?
How will you monitor and maintain our systems to prevent downtime and security breaches?
Do you offer 24/7 support in case of emergencies?
How flexible is your pricing structure, and what is included in each package?
By asking these questions, you can feel confident that you're choosing an established and reliable managed IT solutions partner who can help streamline operations for your business.
How to Manage Your IT Solutions Provider
Managing Your IT Solutions Provider
Once you have chosen the right IT solutions provider for your business needs, it is important to manage them effectively to ensure that you are getting the most out of your investment. Communication is key in this process, so make sure that you establish clear lines of communication with your provider and keep them informed about any changes or updates to your business operations.
Regularly review the performance of your IT solutions provider and provide feedback on areas where they can improve. This will help them to better understand your business needs and tailor their services accordingly.
It is also important to establish a clear agreement or contract with your IT solutions provider that outlines the scope of their services, pricing, and any other important details. This will help to avoid any misunderstandings or disputes down the line.
By effectively managing your IT solutions provider, you can ensure that your business operations run smoothly and efficiently, allowing you to focus on growing your business.
Case Studies: Real-Life Examples of Businesses That Have Benefited from IT Solutions
Managed IT solutions have helped numerous businesses across various industries to operate smoothly and efficiently without any technological interruptions. Let's take a look at some real-life examples of how managed IT solutions proved beneficial for these businesses:
A law firm was facing issues with their data management, security, and communication systems. They opted for fully managed IT solutions that provided them with data backup, cloud services, network security measures along with unified communication tools like secure messaging and video conferencing.
An e-commerce company was facing constant website crashes during peak seasons which resulted in revenue loss. With the help of a managed IT solution, they were able to optimize their website performance by improving server speed using content delivery networks (CDNs), enhancing website design features, and implementing dedicated support staff for better customer engagement.
These examples showcase how IT solutions can streamline processes and improve efficiency across different sectors such as legal services or online retailing.
IT Solutions in HealthCare
IT Solutions have become an integral part of the healthcare industry. With the increasing amount of data and information, it has become essential to manage and store them efficiently. IT solutions can help healthcare providers to streamline their operations, improve patient care, and reduce costs. One of the most significant benefits of IT solutions in healthcare is the electronic health record (EHR) system. EHRs allow doctors and nurses to access patient information quickly and securely, reducing errors and improving patient outcomes. Additionally, IT solutions can help healthcare providers with inventory management, appointment scheduling, billing, and telemedicine services. Cybersecurity is also a crucial aspect of IT solutions in healthcare as it ensures that patient data remains secure and protected from cyber threats. Overall, IT solutions have transformed the healthcare industry by improving efficiency, reducing costs, and enhancing patient care.
IT Solutions in Food & Beverages
The food and beverage industry is one of the most competitive industries with constantly evolving trends. IT solutions can help businesses of all sizes to stay ahead of the competition, maintain quality control, manage inventory efficiently, and improve overall customer experience.
One way IT solutions can benefit food and beverage businesses is by incorporating automation into their operations. Automating processes like ordering supplies, tracking sales data, or managing employee schedules can save time and reduce human error.
Another important aspect is implementing a point-of-sale (POS) system that ensures smooth transactions while also providing valuable insights into consumer behavior. This data helps businesses to know what customers are buying more frequently and which items need improvement.
With advanced technology such as real-time inventory management systems equipped with analytical tools, food and beverage companies will be able to optimize stock levels based on data about product demand patterns.
Overall, deploying effective IT solutions within a restaurant's operation provides excellent benefits for both the business owner/staff as well as its guests.
IT Solutions in Logistics
Logistics is an industry that requires precision and efficiency. With so many moving parts involved in the process, any delay or error can cost time and money. That's why having the right IT solutions in place is crucial for logistics businesses of all sizes.
One important key phrase to consider when looking at IT solutions for logistics companies is real-time visibility. This means having access to up-to-date data on inventory levels, shipment tracking, and other important metrics that help managers make informed decisions.
Another key phrase to keep in mind is supply chain management. An effective IT solution should be able to streamline supply chain operations by automating processes such as procurement, order fulfillment, and delivery scheduling.
By implementing the right IT solutions, logistics businesses can optimize their operations and provide better service to customers while staying ahead of competitors.
Frequently Asked Questions About Fully Managed IT Solutions and Their Answers
Fully Managed IT Solutions can be a complex topic, and you may have some questions about it. Here are some frequently asked questions that can help you understand more about IT Solutions:
What is the difference between fully managed IT solutions and traditional IT support?
Traditional IT support is usually reactive, meaning they only fix issues when they arise. Fully managed IT solutions are proactive, meaning they prevent issues from happening in the first place.
How much does fully managed IT solutions cost?
The cost of fully managed IT solutions varies depending on the provider and the services included in the package. It's important to choose a provider that offers transparent pricing and no hidden fees.
What kind of businesses can benefit from fully managed IT solutions?
Any business that relies on technology to operate can benefit from fully managed IT solutions. This includes small businesses, mid-sized companies, and large enterprises.
Can fully managed IT solutions help with cybersecurity?
Yes, fully managed IT solutions often include cybersecurity measures such as antivirus software, firewalls, and regular security updates to protect your business from cyber threats.
How do I know if I need fully managed IT solutions for my business?
If your business relies on technology to operate and you want to ensure smooth operations without any downtime or technical issues, then fully managed IT solutions may be right for you.
Who provides IT solutions?
IT solutions are offered by technology companies and consultants.
What are IT solutions?
IT solutions are tools and services that solve technology problems.
How do IT solutions help businesses?
IT solutions improve efficiency, productivity, and security.
Who needs IT solutions?
Any business that relies on technology can benefit from IT solutions.
What if I don't have a big budget?
IT solutions come in a range of prices to fit any budget.
How do I choose the right IT solutions?
Consider your business needs and consult with an expert for guidance.
In conclusion, IT solutions are critical to the success of any modern business. The benefits of adopting fully managed IT solutions are numerous, ranging from increased productivity and efficiency to improved data security and reduced operating costs. By partnering with a reputable IT solutions provider that offers the right package for your needs, you can streamline your operations for hassle-free growth and scalability. Whether in healthcare, food & beverages or logistics industries, businesses have already witnessed significant improvements after implementing IT systems.
In today's digital age, it's vital to stay ahead of the technological curve to remain competitive. Don't wait until it's too late! Invest in fully managed IT solutions today and give your business a fighting chance in this fast-paced world.
If you liked this article, then subscribe to our YouTube Channel or connect us on Facebook, LinkedIn, Twitter and Instagram.
Latest Posts
Cloud Tags
advanced threat protection AI IT Support Artificial Intelligence Augmented Reality automated processes automation business consulting cost savings Cybersecurity Digital Marketing fortinet FortiGate 400F Fortinet Security Fabric Fortinet Threat Intelligence Service help desk increased efficiency Influencer Marketing Intrusion Detection System intrusion prevention system it it disposal services IT Operations it services it support IT Support Automation IT Support Community IT Support Company it support professionals IT Support Qualification IT Support Skills IT Support Soft Skills it support thru automation IT Support Training malware scanner plugin network security Next Generation Firewall NFW Palo Alto Firewall paynow pay now ransomware routine IT tasks scam security seo singapore Social Commerce software Successful Career in IT Support technology tech support ubiquiti wireless Video Marketing Voice Search Optimization wireless technology wordpress 2FA wordpress maintenance wordpress plugins wordpress security best practices wordpress security mistakes zero-day vulnerabilities